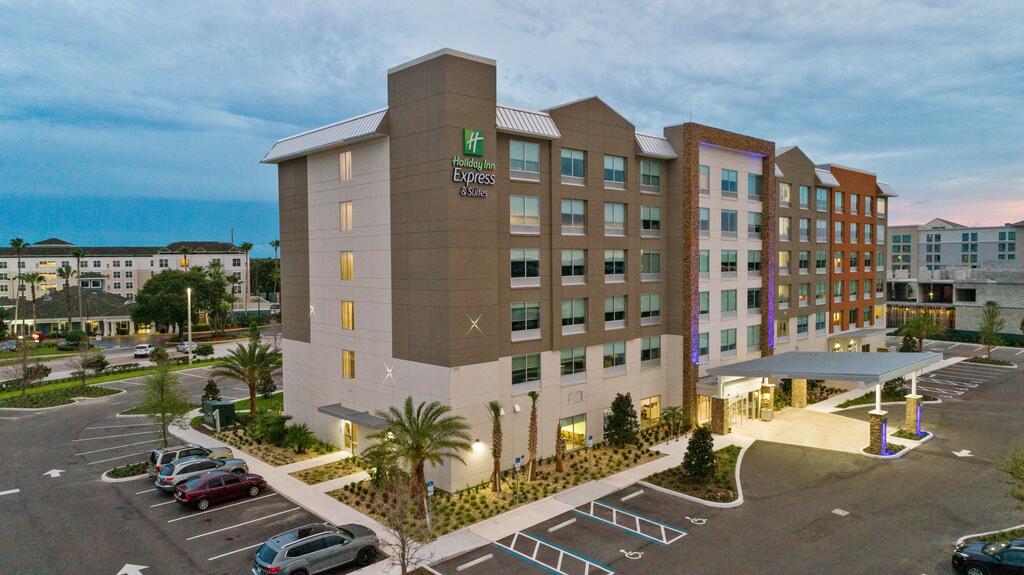 The Holiday Inn Express Lake Buena Vista Hotel is the closest Holiday Inn Orlando hotel to the Disneyworld Resort area. What also sets the Holiday Inn Express Lake Buena Vista apart from other hotels in the region is that it is a 100% smoke-free hotel, which will no doubt please all guests who are sensitive to cigarette smoke.
At the Holiday Inn Express Lake Buena Vista, guests have two major advantages. This Orlando hotel is undoubtedly in an extremely convenient location. At the same time, guests will be able to take advantage of the low rates of the 200 guest rooms that accompany Holiday Inn Express hotels. Guests can also enjoy a meeting room with 1,200 square feet of space. The Holiday Inn Express Lake Buena Vista does have some significant onsite perks to offer its visitors as well. One major plus, not found at too many Orlando hotels, is a free hot breakfast.
A free hot breakfast is definitely a unique feature for the Orlando area and a real plus for family vacationers on a budget. The Holiday Inn Express Lake Buena Vista's breakfast bar offers guests a wide selection of foods including scrambled eggs, omelets, sausage/ bacon, and daily selections of fruit, juice, cereals, and more. Guests looking to economize can take advantage of this free breakfast, and spend more money on theme park tickets and dinners out.
This Orlando hotel also prides itself on having a heated outdoor pool with a 50 ft waterslide. This is a uniquely designed pool that serves as a centerpiece to the hotel. The pool has giant rock formations and a waterfall cascade. This pool will delight both adults and kids alike.
Although this hotel itself doesn't have a full service restaurant, guests can still take advantage of convenience where meals are concerned. There are a variety of choices for dining in the Vista Center, which is a short walk from the hotel. There are also several others restaurants just blocks away. Restaurants near the hotel include TGI Fridays, Denny's, Olive Garden, Perkins, among many others.
An additional plus and a true milestone for the Holiday Inn Express Lake Buena Vista was it was recently designated to be a Florida Green Lodging Hotel. It was also awarded the 2007 Renovation of the Year Award. This Green Lodging program was instituted in 2004 to commend Orlando hotels that have incorporated green practices to conserve our natural resources and prevent pollution. The Holiday Inn Express Lake Buena Vista is proud to be one such hotel.